Installation – 2021
Original – Wood, nails, golden spray, glitter and glue, neon color spray
9 x 3.5 meters approximately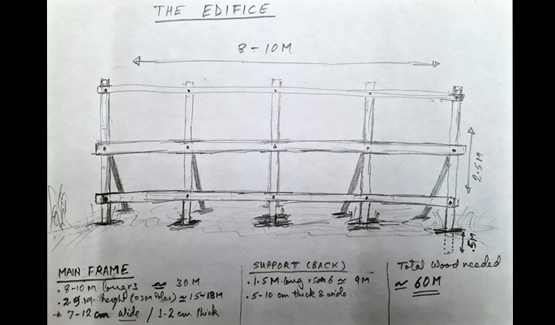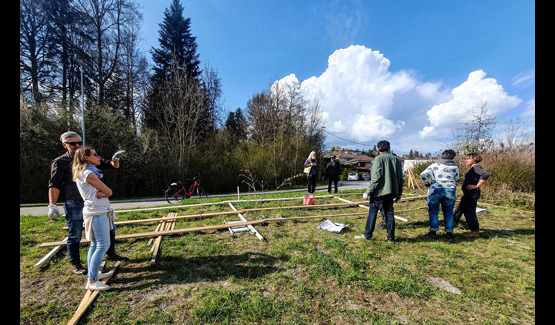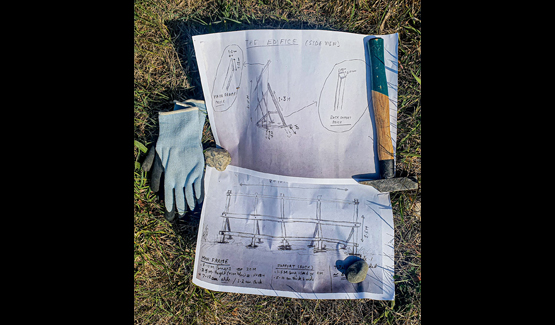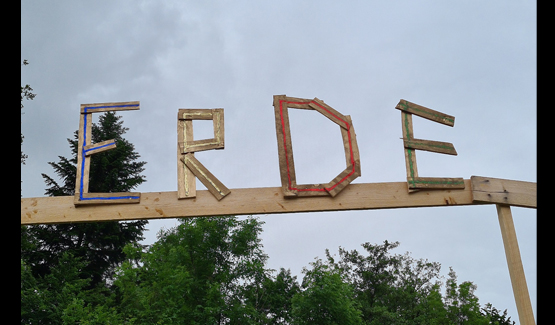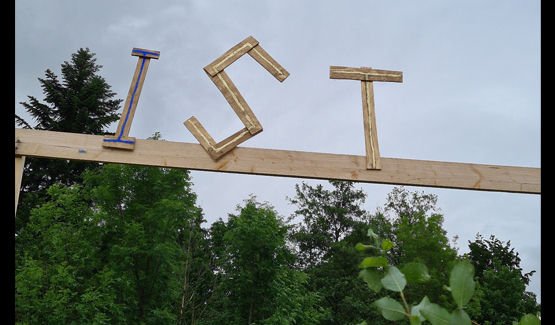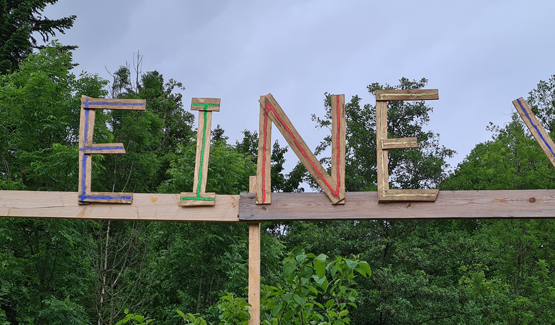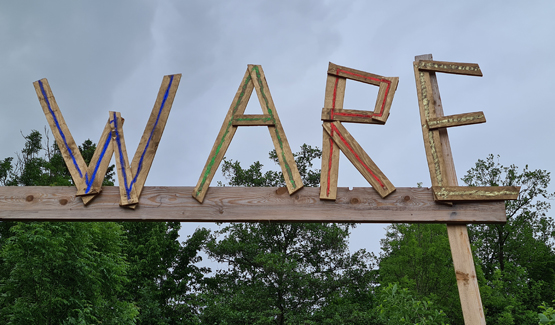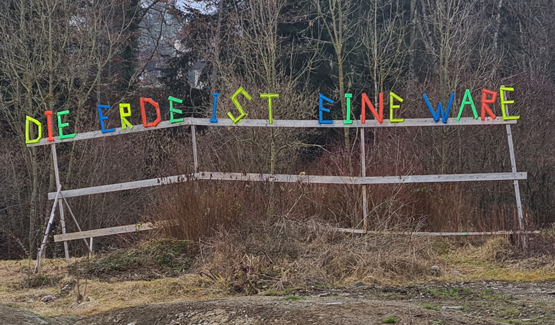 The huge, text-based installation stands in the middle of the Museum 1 and remains openly accessible and visible throughout the year to anyone who passes by. The text is designed to provoke the viewers to think over the extremely banal socio-economic thoughts that are accepted today as a normal part of the world we live in. The first text reads: 'DIE ERDE IST EINE WARE' (The Earth Is A Commodity).
The current structure is created over multiple interventions and will continue to evolve further. The first two interventions were both performative and participative:
The Edifice – a Performance where Parvez invites the visitors to 'work/labor' for him and build the Scaffold, based on his design. Meanwhile he cooks a meal to thank/repay everyone for their labor with his labor and food.
A Game of Alphabets – Visitors participate and help the artist build alphabets from wood. He sprays golden color and add glitter to them before they are installed on the Edifice.
The third intervention was after 8 months (January 2022) when the artist paints the letters with bright neon colors to give it a fresh look against the greyness of winter.
The fourth intervention is planned at 12 months (May 2022), when a new playful text will appear on The Scaffold.
This public art project will continue until The Scaffold is either destroyed by nature or Museum 1 decides to take it down or the artist decides to destroy it or something else that is not yet planned.
The choice of material (wood) and the roughness of the creation were consciously designed to fit the space unobtrusively and also to reflect upon the idea of aesthetics and value in art.
The Scaffold was created as a central-piece during Parvez's solo show, 'COMMODI-FICTION' at Museum 1 (April 24 to Oct 2, 2021), which was based on the ideas proposed by Karl Polanyi, the Austrian-Hungarian economist, historian and thinker in his analysis of Industrial revolution published in 1948, 'The Great Transformation: Political and Economic Origins of Our Times'. The artist expands upon his ideas, plays with the workings of a market-based- economy and also explores its connection with (neo)colonialism – the continuation of colonial subjugation and exploitation through economic, political, cultural, and/or other tools.
Polanyi's concept of a false commodification of 'land, human labor and currency' remainsat the heart of the work.
Installed at:
Museum 1 during the solo exhibition COMMODI-FICTION – 2021